presents...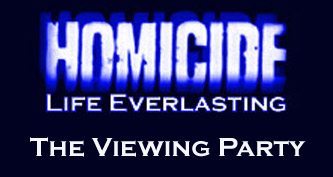 Join Homicide fans from all over for
a celebration of the Homicide movie.
Meet at:

Kooper's Tavern
1702 Thames Street
Fells Point, Baltimore
Sunday February 13, 2000 @7pm

kindly RSVP Kathy by February 1st.
This is a pay-as-you-go event, but we'd like to let the Kooper's staff know how many will be attending for dinner, drinks and the movie.


Thanks to Kooper's for hosting this and other Homicon events!




Visit Laurel's Movie Party Page for details of other viewing parties around the country!

Homicide: Life Everlasting is ©NBC and will air on NBC, Sunday February 13, 2000 @9pm EST. Check your local listings. This is a fan webpage. No copyright infringement is intended.